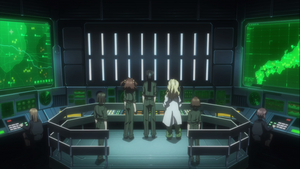 Anti Spirit Team Headquarters
or also just called
AST HQ
is the main underground base of Anti Spirit Team in Tenguu.
The base was established quite recently soon after the arrival of the Japan Ground Self-Defense Force in Tenguu to investigate the large number of spacequake in the area, the base was created with the goal of getting well faster through the city tunnels jet that can move across the city in a few seconds, facilitating locomotion of the Wizards to get up to a certain area.
The base is incredibly huge, occupying half of the city behind the basement is like an underground city, inside the base the great tunnels and rails treins who secretly pass down the city, the base also has a great magic power to maintain technological large amount of energy used by Realizers that are used as electricity for the equipment for Wizards. The base is run by the captain of AST in Tengu City, Ryouko Kusakabe.