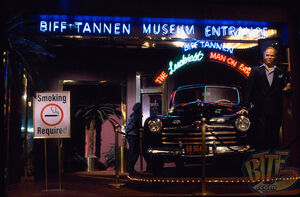 The Biff Tannen Museum was a museum constructed by the corrupt toxic waste company BiffCo and it was dedicated to Biff Tannen's "illustrious" life in the alternate 1985 timeline. There was a documentary at the entrance which Marty McFly watched after he traveled back home after a brief trip to 2015, hoping to be in the 1985 he knew.
It was attached to Biff Tannen's Pleasure Paradise Casino and Hotel, and contained among its exhibits, a waxwork figure of Biff standing next to his newly-restored 1946 Ford Super De Luxe Convertible, both of which could be seen at the main entrance — outside which was a sign that read "Smoking Required". According to the tickets, admission to the museum was $5.00.
The museum documentary shows video footage of Biff and Lorraine Baines McFly's wedding. While here, the shocked Marty was found and knocked out by Match, Skinhead and 3-D.
Gallery
Videos
Trivia
The actor providing narration for the video documentary shown at the Biff Tannen Museum was Neil Ross.
Community content is available under
CC-BY-SA
unless otherwise noted.