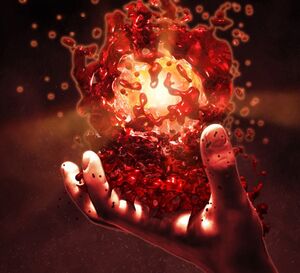 | | | |
| --- | --- | --- |
| " | Blood is sound, sound is words, and words are power! | " |
| | ~ Grimoire Weiss, NieR (about the power of Blood Magic). | |
Blood Magic (also sometimes called "Blood Magick"), also known as "Blood Sorcery", is an ancient and dangerous form of magic. This mystical but forbidden theurgy is used to cast spells, enchantments and even curses through blood itself, the very bodily fluid which is the potent force as well as the essence of life itself in the working of magic. It may be a token sacrifice, but it may also be the loss of life that fuels the spell. Blood magic is also often used in Blood Rituals.
Some blood may be indicated to be more powerful than others. Common types are human blood, the blood of royalty, the blood of a special lineage/bloodline, a child's blood, a caster's own bloodnote, or a virgin's blood.
Sometimes only a single person's blood has power, and any other blood is but powerless.
Every user has the inherent power within their blood to fuel spell-casting. This is an ancient version that predates word-based magic and was considered by some to be more powerful.
Blood Magic was a kind of sorcery based on the employment of blood which is an important component in many rituals, spells and other aspects of the supernatural world.
Examples of Blood Magic Users, Objects and Methods
Comic Books
Literature
Live-Action TV
Videogames
Gallery
NOTE: The limit is for 20 pictures only
Trivia
Extrernal Links
Community content is available under
CC-BY-SA
unless otherwise noted.