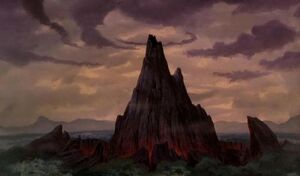 The Castle Mountain is home to the wicked magician Clavius and an eponymous location in the 1997 animated fantasy sequel The Swan Princess II: Escape from Castle Mountain.
Castle Mountain is a huge hollow mountain surrounded by a moat-like lake of lava which indicates the mountain itself is a volcano. It is connected by a gondola lift a boiling moat of lava between a nearest plateau on the mountain's lower heights and a hollow cave that is Clavius' secret domain inside the mountain. It is located far away from the Swan Lake. It is where Clavius schemed and planned.
This region was completely destroyed in the mist of a volcanic eruption caused by the energy released from the orb simply known as the Forbidden Arts named after the same magic art practiced and sought after to be controlled by Rothbart, Clavius and Zelda. Clavius died in the explosion after he lost all his powers while Princess Odette and her friends rescued Queen Uberta and escaped the sorcerer's destroyed lair with their lives.
Clavius's very own Castle Mountain became forever abandoned and empty upon its fiery explosion since the wizard's deathly demise.
Gallery
Trivia
Clavius the Spellcaster shares similarities with Zelda the Sorceress for both evil magicians having a secret lair inside a mountain and having magical powers.
Community content is available under
CC-BY-SA
unless otherwise noted.