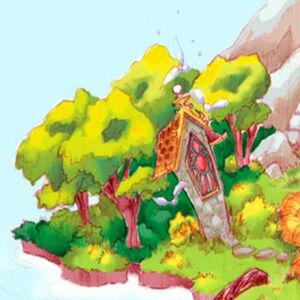 The Chateau Ripto, named after the ill-tempered wizard Ripto, is his own "chateau" (in French: "mansion") which also serves as his own secret lair as well as his own home.
This tall seemingly luxurious medieval-esque house with colorful faux-Victorian interiors and gold statues of Ripto inside is where the crafty magician lives comfortably and where he hatches new new schemes.
Chateau Ripto has first appeared in Spyro: Enter the Dragonfly, in which Ripto had a throne in the center of the room.
In Spyro: Attack of the Rhynocs, the Chateau is finally revealed completely and shown on the world map before Spyro infiltrated the chateau and finally face Ripto. On each side of the same room there are statues that control lightning, fire and ice. These statues can be activated by Ripto's magic and used as a trap that he has made for his enemies who would dare to invade his house and trespass his property. After Spyro have defeated him, he drops a Heart item in his throne room.
Gallery
Trivia
Also, in Season of Flame, Ripto is in a factory-like region within his secret volcano lair and conjures a deck of magic cards with each respective color-based elements to protect himself.
Community content is available under
CC-BY-SA
unless otherwise noted.