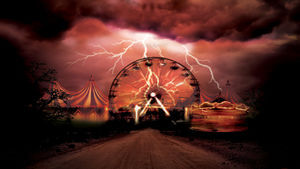 Dark's Pandemonium Carnival , also known to all as the Pandemonium Carnival, is a nightmarish traveling circus and a major antagonistic setting in the Ray Bradbury novel Something Wicked This Way Comes and its 1983 supernatural mystery Disney movie adaption of the same name. It is composed of strange circus performers called the Autumn People and it is run by Mr. Dark.
History
In Greentown, Illinois, a small town enjoying the innocence of an upcoming autumn as the days grow shorter, two young boys—reserved Will Halloway and somewhat rebellious Jim Nightshade—leave from an after-school detention for "whispering in class" and hurry off for home.
When the boys hear about a strange traveling carnival, Mr. Dark's Pandemonium Carnival, from a lightning-rod salesman, they decide to see what it is all about, but Will is fearful, as most carnivals end theirttours after Labor Day. When the ominous Mr. Dark, the Illustrated Man, rides into town on a dark midnight, setting up his massive carnival in a matter of seconds, the boys are both thrilled and terrified. It seems to be just another carnival at first, but it is not long before the forces of darkness begin to manifest from the haunting melodies of th ccarousel—which can change your age depending on which way you ride it—and from the glaring Mirror Maze. With his collection of freaks and oddities, such as the Fat Man, Mr. Electro, and the blind Dust Witch, Dark intends to take control of the town and seize more innocent souls to damn. It will take all the wit and hope of the two boys to save their families and friends, with aid from an unlikely ally, Will's father, the town librarian, who understands more than anyone else that "something wicked this way comes".
Community content is available under
CC-BY-SA
unless otherwise noted.