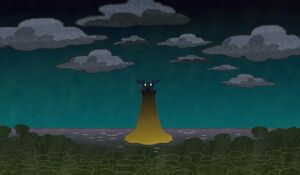 Kroodle's Castle was a dark castle on a mountainous island surrounded by ocean and it belonged to the evil wizard Kroodle. It is a location in the 2011 TV special Louie and the Rainbow Fairy based on the 2005 French animated series Louie. It is where the Rainbow Fairy was imprisoned.
The castle is home to an army of territorial creatures known as "Krockolors". They are sent by Kroodle to turn all the world's colours into black. Before Louie and Yoko are able to stop the dark wizard from ruling, the Blue Knight failed to stop him, thus being one of the dark creatures.
As soon as Krobloke arrived in the castle, he gets warned by Kroodle to spread bad luck into their voyage. Thereafter, Louie, Yoko, and the Blue Knight are able to make it by facing through an army of Krockolors.
The three began confronting Kroodle after thwarting Krobloke. Yoko and the Blue Knight were turned into Krockolors, thus leaving Louie the only one left.
As soon as Louie gave the Rainbow Fairy a magic wand after he and his friends escaped, Kroodle's Castle is later torn down and all the colors were restored.
Gallery