| | | |
| --- | --- | --- |
| " | Now, I call out to the spirits of this place, I will give anything or pay any price. If only you will help me save my people. | " |
| | ~ Arthas Menethil before taking up the Frostmourne blade. | |
A Pact with The Devil, also known as a Deal with The Devil and a Faustian Bargain, can refer to any scenario in a work of fiction where a character, villainous or otherwise, is driven to ask the dark forces for help. A hallmark of a Pact with The Devil is that it always comes at a cost to the user, leading to either death, eternal damnation or any other unsavory ending. The best example of a Pact with The Devil is in the story of Faust who made a deal with Mephistopheles.
Typically there are 2 different scenarios for these deals, the older one is when Satan or the person or creature representing the Great Deceiver sabotages the deal to make the deal unfair. Other cases usually found in darker stories is when The Devil keep his end of the bargain, and instead the focus is whether the user will pay their end of the bargain when it's time.
In fiction, case regarding the Faustian Bargain or the Pact with the Devil, however, not always involves the pact between the client and the Devil himself. Instead, the similar deal also can be made with other antagonistic individuals/beings or accursed/dangerous objects (such as the Death Note for example). In either cases, the price would always same.
Examples
Mythology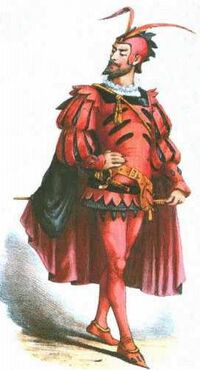 Western Animation
Television
Anime
Films
Literature
Comics
Videogames
Gallery
Images
Videos
Community content is available under
CC-BY-SA
unless otherwise noted.