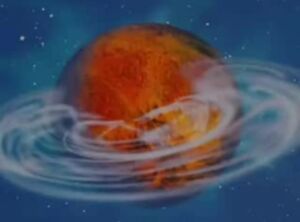 Planet Luud (in Japanese: 惑星ルード) is the homeworld of "Luudism" (also known as the Luud Cult), a fanatical extraterrestrial cult who worships the giant Machine Mutant known as Luud. It is where not only Master Dolltaki founded the Luudist "religion" on the behalf of his master Dr. Myuu in Age 775, but also the planet's cultic society ultimately became disbanded in Age 789 by Goku, Trunks and Pan who all three defeated their false deity.
Known Natives and Residents
Appearances in other media
Planet Luud is the 4th level in the GameBoy Advance videogame Dragon Ball GT: Transformation. Enemies encountered here are Machine Mutants, Luud Guards, Jet Guards, Idols (fire breathing stone heads), Floor Tiles, the mini-boss is Cardinal Mutchy Mutchy, and the boss is Luud.
Community content is available under
CC-BY-SA
unless otherwise noted.