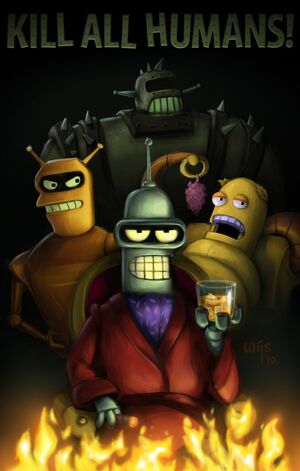 Robophobia is a fictional form of oppression found in the Futurama universe, specifically in the Futurama media and is a major part of the daily struggles of both heroes and villains in the setting: it is a parallel to a multitude of real-world oprressions and although not all characters who display this are evil-minded many of the Robophobics (both humans and robots) play on the fear and hatred caused by Robophobia to justify horrific acts of threats against robosexuals.
Robophobia organizations
Space Catholicism
Robotology
Farnsworth Foundation - Which created and later dissolved in the episode "Proposition infinity".
Known Robophobic individuals
Morbo - Faking legalization of Robosexual marriages existence.
Hubert J. Farnworth - He ex-robophobic since tell his secret of robosexual side to public.
Robophobic individuals (faking)
Bender - (His hypocrisy of robosexuality are sometimes is repressing side, later the series he rejected robophobia ideaology since episode "Proposition Infinity").
Revered Preacher Bot - (He covering his robosexuality for his job).
Gallery
Community content is available under
CC-BY-SA
unless otherwise noted.