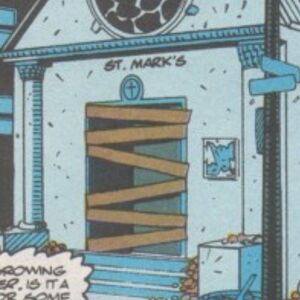 St. Mark's Church (also known as "Saint Mark's Church") is an abandoned church in New York City that came under the control of Abbot Thanademos and his cult, the Followers of Thanademos.
It is now known why St. Mark's Church was closed down in the first place. It became the secret headquarters of Thanademos and his cult at some unknown time. The door was barricaded with boards and it looked like the church was ready for demolition. The church was filled with caskets and the caskets were filled with the comatose loved ones of Thanademos' followers. Runes were written on all windows as well as on the caskets. On the altar are 2 pots with burning coals stood and a gong with runes written on it hung on the wall.
Iron Fist entered this forgotten church in Manhatten and battled Thanademos and his cult before his arrest and the Tome of Uncoma disappeared.
Gallery
Community content is available under
CC-BY-SA
unless otherwise noted.