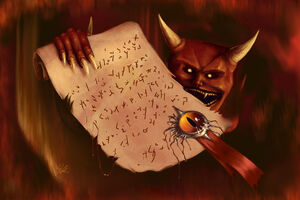 The Devil's Contract is an ancient belief that mortals can sell their soul to The Devil (or a powerful demon) in exchange for vast wealth and absolute power at the cost of being damned to spend the rest of eternity in Hell (or a similar dimension) : the belief in these Contracts allowed the infamous Witch-Trails that massacred many innocent people and has since entered popular culture as one of the most well-known Satanic tropes in media. It is perhaps one of the oldest and most recurring theme in many morality tales, theological discussions and fantasy of many genres - dating back at least as far as organized religion the idea of signing away one's eternal soul to Satan or similiar evil has become a lasting image of malice within the human mind.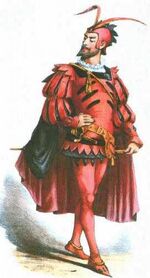 The Devil's Contract can take many forms but has become most associated with a literal contract written by the infernal power in question (be it Satan, Beelzebub, Mephistopeles or otherwise) detailing the terms of the agreement and often demanding the mortal's soul after their death or (alternatively) after a set amount of time.
Once a living mortal agreed to this contract, a demonic pact was formed via many varied means, the most common in the public imagination was the willing signing of one's name on the contract - often in one's own blood.
Other ways of sealing a demonic pact could involve sacrifice (human or animal), consentual sex with the demonic spirit or recieving a mark from the Devil or a similar evil force signifying ownership (in witch-hunts it was common practice to exploit belief in the Devil's mark to accuse people with birthmarks or other skin defects of being witches and warlocks, despite it having nothing to do with the supernatural).
Although largely confined to superstition, morality tales and fiction there are accounts of people confessing to having made such pacts with demons - though in the modern age such claims have come under heavy criticism as they were often gained via torture or intimidation by the now infamous witch-hunting societies.